Sail Croatia on one of our Luxury Catamarans for Charter in Croatia fully crewed

The only thing standing between you and the ideal escape from the stresses of daily life is our luxury catamaran charter in Croatia. We offer a large number of catamarans that may be booked in Croatia for various areas, such as Dubrovnik, Split, Zadar, Kornati, and Istria.
Our luxury catamaran charters are the perfect way to fulfill your thoughts of an extravagant or fun sailing excursion in Croatia. We take the burden off your shoulders so you can focus solely on the exciting Croatia catamaran trips that are in store for you. Give us the location, dates, and number of guests you'd want to accommodate, and we'll find the best Croatia charter for you. We will offer you a selection of yacht rentals so you may choose the one that most closely fits your requirements.
Our Luxury Catamaran Croatia Fleet
kuzmanic
2023-05-23T14:56:21+02:00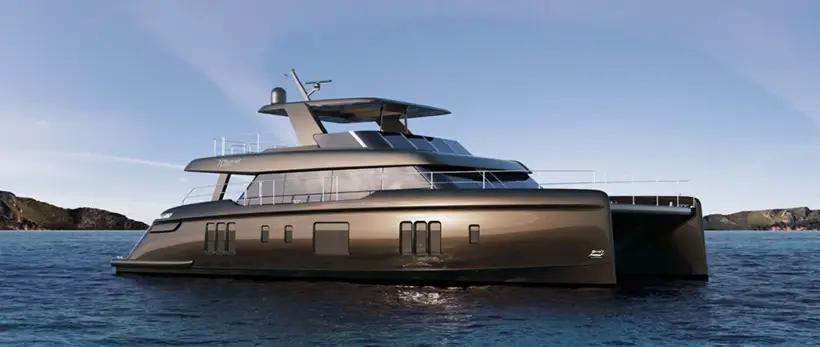 Built: 2023
Cabins: 4
Berths: 8
Length: 21.30 m / 69.88 ft
From: € 53,600 / week

INQUIRE NOW »
You are hoping for a brief but life-altering meeting. The most essential aspect of engaging in an adventure is to have fun and not feel disappointed. You have the option to purchase a sailing vessel on your own, but why would you? If you are interested in sailing the Adriatic Sea in style and do not wish to face any risks, you should consider renting a catamaran. They offer greater space, comfort, and stability than traditional sailing vessels. Luxury Catamaran Charter Croatia is a division of Europe Yachts Group that was established with the goal of boosting the excitement, vibrancy, and significance of our clients' boating experiences. Since 1998, from its offices in Split, which is also in Croatia, our well-respected charter company has been offering bespoke luxury yacht charters in Croatia from its base in Split.
At Every Turn, Unparalleled Personalization
We have an impact on extraordinary, one-of-a-kind, and precisely planned journeys. We have access to an abundance of fantastic bargains, vacation packages, last-minute cruise opportunities, and other travel opportunities.
Expert Guidance
Our captains have gone through special training and know everything there is to know about the most exciting sailing trips. Our booking managers will be at your service to help you choose the best multihull boat to rent in Croatia based on your needs. They will treat each and every one of their customers with the utmost care and concern.
If you are interested in renting a luxury catamaran in Croatia for sailing, corporate team building, sightseeing, visiting national parks, or simply basking in the sun, our staff is ready to assist you.
Hidden gems along the coast of Croatia
Luxury catamarans are in high demand in Croatia, particularly in the Split sailing area, due to the country's ideal sailing weather. Luxury Catamaran Charter Croatia offers more than 200 excellent yachts for charter, including models and brands such as Nautitech, Lagoon, Sunreef, and Astrea.
Catamaran charters are able to move rapidly through the water. Their large size makes them great sailing vessels for vacations and parties, accommodating up to 14 individuals. In addition, their simplistic designs make them perfect for fishing because they can readily navigate shallow waters.
If you desire more excitement without sacrificing luxury and space, a catamaran charter out of Split, Croatia, is the way to go.
Consider a luxury catamaran vacation in Croatia.
Have you reviewed our fleet of luxury catamarans? We have the largest fleet of large catamarans that can sail in all of Croatia. They are all fully crewed catamarans. Our core beliefs have not changed with time:
We service a variety of places, including Dubrovnik, Split, Zadar, Kornati, and Istria.
We are firmly committed to providing excellent customer service.
a diverse fleet of manufacturers and models, with charters to accommodate any event.
Let the fun commence! Select your luxury catamaran! You can contact us directly or get an estimate regarding the available boat models.
Explore Croatia in a New Way: Sailing in to the horizont
No matter what you decide to do in Croatia, the only way to properly grasp the spirit of this region is by sailing across the Croatian islands according to our sailing itinerary. Dubrovnik is an excellent starting point for a boating excursion on the Croatian island!
To complement Dubrovnik, you must visit Split. Split is a city built around the Diocletian Palace, an undamaged 1700-year-old Roman palace. You will fall in love with the town's culture, way of life, and sea because of its enchantment and great people.
Check out our online discounts for luxury Croatia catamaran rentals. Our selection of luxury crewed catamarans for charter in Croatia includes sailing yachts for rent throughout the Adriatic.
The locations of Croatia's charter marinas
Biograd, Dubrovnik, the Island of Solta, Kastela, Krk/Punat, Makarska, Murter, Primosten, Pula, Seget Donji, Sibenik, Solta, Split, Sukosan, Trogir, and Zadar are among the Croatian (Adriatic) coastal cities where we can provide you with yachts. This encompasses Dalmatia, Istria, and Kvarner.
These yachts can be chartered with or without a crew, and they stop at a number of breathtaking Croatian islands.
Why should you reserve a luxury catamaran through the europe-yachts.com website?
At luxury catamaran charter Croatia, we are adamant that every client deserves the chance to live a fulfilled life.
As a result, we have made it our top aim to provide the highest quality rental services imaginable.
This way of thinking, which places the client's demands at the forefront at all times, is the foundation upon which our company was founded.
Europe Yachts Charter guarantees unparalleled service and the utmost professionalism.
We maintain our own bases.
We have a group of permanent, skilled captains.
We reach you quickly via our speedboat service.
Furthermore?
Free yacht charter reservations: Europe-Yachts.com does not charge a fee for yacht charter reservations.
Europe-Yachts.com assures all of our customers the lowest special rates for multihull charters.
Secure reservations: Our website is 100 percent user-friendly and safe. The personal information of users is solely stored on our system. All of our clients are GDPR-compliant.
More destinations: We have yachts in every major city in Croatia, and our fleet is growing every year.
With over 200 yachts for charter on the Internet and 1,982 vessels in the Europe Yachts Charter group, including sailboats, motorboats, catamarans, gulets, and luxury yachts, we can meet all of your needs.
Our places of business
You can trust that we will collaborate with you to create a memorable experience wherever you go. Our yacht charter staff of professionals will assist you in whatever way you require; they are familiar with every area, island, and marina. We have partners on every island, so we can also provide you with discounts at restaurants and nightclubs. We can also make marina arrangements for you and assist you in purchasing all food and beverages prior to and during the charter, so you can enjoy a wonderful sailing vacation.
We can easily travel from our base in Split, Croatia, to some of the most desirable sites along the Adriatic Sea, such as the attractive areas of Istria and Kvarner, down to Zadar, Sibenik, Split, Pula, and Dubrovnik. These are the main regions of Croatia, and we provide luxury catamaran services in all of them.
If you require a yacht in another marina, such as marina Baka Voda, marina Kornati, marina Angulin, marina Katela, Punat, yachting Sport Agana, ACI Split, Dubrovnik marina, ACI Opatija, marina Hramina, Bunarina, Veruda, marina Frapa, Zenta marina Split, marina Trogir, and others, we can transport it there.
There's no need to be concerned if you're unsure where to begin planning. We'll assist you in exploring your possibilities, and together we'll design the perfect boat vacation, particularly for you.
Comfort and steadiness
Enjoy the exciting "whoosh!" of our luxury charter catamaran. Inside, you will discover the solace you require. Split, Croatia, is surrounded by natural beauty. We customize our catamaran with up to four opulent staterooms for the utmost in comfort using imagination, good taste, and flair. The catamaran is more stable than other boats since it is larger than a sailing vessel. In addition, the larger cabins and facilities may make you feel like a king in a palace on the river.
Catamarans are less likely to capsize because they are more stable in the water. They often do not sink in water because they are constructed of wood, which gives them natural buoyancy. Catamarans also feature a number of watertight compartments that keep the vessel afloat in the case of a puncture.
The idea of our crewed catamaran charter Croatia service is precisely that you would have no involvement! You may party, read a book on the beach, relax, and watch the sun set over adjacent islands. You may go swimming if you have more energy.
Given the variety of options, it can be difficult to select the ideal catamaran rental for a sailing vacation. If you want to charter a yacht for a day or a week, you've come to the correct location!
So, please tell me how you feel about this.
If you appreciate discovering new areas and obtaining new knowledge, then sailing the Croatian Sea on a chartered yacht is the ideal activity for you.
This offer gives you the opportunity to learn something new and have a great experience while sailing on a vessel of your choosing.
Discovering new locations and attractions in Croatia while sailing aboard a luxury catamaran charter in Croatia is a lot of fun.
Utilize our sailing fleet to discover welcoming locals, postcard-perfect beaches, and crystal-clear waters.
Make sure to book your trip well in advance!
If your ideal seaside vacation includes ample space, stability, and speed, then chartering a catamaran is without question the best option to consider.
Even though monohull and multihull vessels have the same sailing fundamentals, multihull vessels are more stable and have a higher maximum speed.
You may choose to consult the list of items that catamaran passengers are advised to bring.