Are you seeking a luxury sailing vacation in Greece? Please allow us to assist you.
Sailing Greece aboard a luxury catamaran is a unique experience. This year, select Greek islands are sailing for a vacation filled with discovery. We provide for rent luxury, party-ready, and family-friendly fully crewed catamarans.
It is said that Greece has a unique hue of blue sky and one of the world's most spectacular and magnificent sunsets. Experience Greece aboard a sailboat and make unforgettable memories with the largest fleet of luxury Greek catamarans.
Explore all of Greece's natural splendor aboard a magnificent catamaran. Catamaran sailing is incredibly secure and pleasurable, making it ideal for novices.
At Europe Yachts Charter, you may pick from 100 fully-equipped catamarans for charter, allowing you to cruise the enthralling Greek Islands in a manner you've never imagined!
The greatest variety of Luxury Catamarans available for Charter in Greece.
kuzmanic
2023-03-08T15:43:26+01:00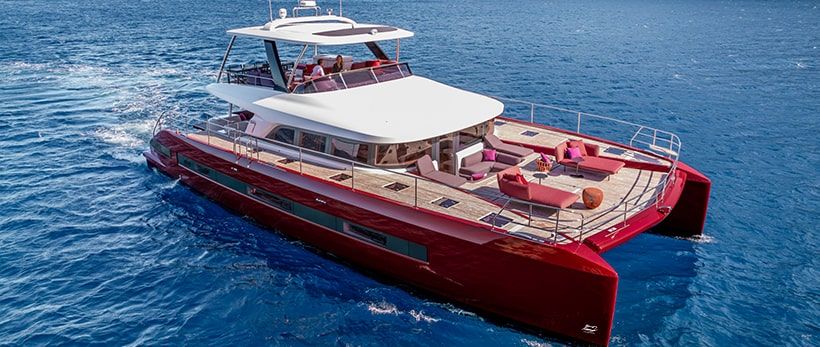 Built: 2023
Cabins: 5
Berths: 10
Length: 20.15 m / 66.11 ft
From: € 35,000 / week

INQUIRE NOW »
What do you desire to observe?
This year, spend your fantasy vacation sailing in Greece. Visit romantic Santorini, culinary Mecca Crete, or opulent Mykonos. Prepare to party, imbibe the finest wine, savor incredible cuisine, and unwind on secluded islands located in one of the world's bluest regions.
Sailing in Greece is always a good idea!
All-inclusive crewed catamaran charter in Greece
It was always believed that only the wealthy and famous could sail a rented yacht around the Greek Islands. People of all ages and backgrounds may visit our lovely nation thanks to our great offers and best pricing, which are available all year long.
Since we sincerely adore Greece, we want to introduce it to everyone! For luxury Greek sailing activities, Luxury Catamaran Charter Greece offers the best rates and packages. We offer a chartered boat trip in Greece more affordable than ever for individuals all over the world, from a weekend to a full month.
Customized Greek multihull sailing experiences
In terms of natural beauty, history, and cultural experiences, the Greek Islands genuinely offer something for everyone. This is why Luxury Catamaran Charter Greece listens to your choices and then creates a customized itinerary and sailing experience!
We provide everything, whether you want to go on a Greek wine tour from one of the world's best vineyards, sail out to Santorini to watch the sunset in luxury, or dock your catamaran to go on a bicycle tour of the islands.
Allow our experts to show you around Greece in style.
Whether it's your first time visiting Greece or you've sailed the Mediterranean a number of times, the Luxury Catamaran Charter Greece team is eager to show you the best of the nation. Our knowledgeable catamaran charter crew knows every island, every activity, and the ideal holiday destinations for your specific preferences.
Simply call Europe Yachts contact center and describe what you want to get out of your luxury Greek sailing adventure, and our travel specialists will design the perfect Greek vacation for you.
Destinations for Sailing Vacations in Greece
Athens, Corfu, Kos, Lavrion, Lefkas, Mykonos, Paros, Rhodes, Skiathos, and many other cities are located in Greece.
In addition to traversing all of the Greek Islands, we also depart from ports around the country.
Choose your preferred starting point from Athens, Corfu, Kos, Lavrion, Lefkas, Mykonos, Paros, Rhodes, Skiathos, and other important ports for added convenience for everyone who leases a multihull yacht from us in Greece.
Catamarans from us
They have diverse amenities to accommodate different types of guests, such as couples, families, and groups. If you value room and comfort above all else, our luxury yacht charter is the way to go. You'd be surprised at how economical catamaran bareboat yacht hire can be, regardless of your budget.
Catamarans provide advantages such as a big foredeck area with a net between the hulls for sunbathing, a huge cockpit for shade, and a dual hull layout that allows complete seclusion in every cabin. Luxury sailing catamarans are speedy and offer plenty of space and comfort.
The inside main deck area also includes a fully furnished gallery with a large saloon and seating for 8 guests. The exceptional stability of the catamarans charters makes them child-friendly, allowing youngsters to play on deck.
Moments spent on the decks of a catamaran charter yacht are to be treasured. You can enjoy getting sun-kissed or relaxing in the shade while admiring the breathtaking views of the waters.
Crewed Catamarans
It's always preferable to enjoy memorable moments with family and friends while being catered for by a professional team (captain, chef, steward, and deckhand). They can cook all of your meals and manage the trip's itinerary. From welcome aboard to farewell, our crewed catamarans are certain to meet your expectations.
Catamarans have several advantages over other forms of boats, including:
Size. They are not particularly long but can hold up to ten people.
Catamarans have two hulls for stability. As a result, the likelihood of an accident is quite low.
Catamarans are quite spacious and provide more sleeping space than many other ships.
Minimal movement: catamarans are relatively stable and easy to navigate in shallow waters.
Every Monday, we have Last Minute Luxury Charter Greece Specials.
We are dedicated to getting you the greatest value on all of your sailing vacations in Greece! Therefore, every Monday, Europe Yachts Charter provides an exceptional last-minute boat charter special.
Discover the Greek islands in unparalleled luxury while saving hundreds on the top Greek sailing packages.
If we are unable to provide you with the ideal catamaran for your needs, we will give you a selection of alternative boat rentals in Greece, including motor yachts and sailing yachts.
We offer a variety of luxury catamarans for charter in Greece, including models by Sunreef, Lagoon, Privilege, and Fountain Pajot, among others.
From 39′ to 62′ luxury catamarans, we provide everything you need for a spectacular Greek Islands sailing vacation.